Welcome to studio of
ONE SWEET CELEBRATION – CAKE SMASH STUDIO
We are best known for our cake smash sessions – Capturing Lifes littlest celebrations from Brisbane to the Gold Coast and all surrounding areas
Step inside the world of ONE SWEET CELEBRATION and
take a peek through our recent Birthday Cake smash sessions…….
Celebrating in all the magic that is that very first Birthday!
I invite you to step into my studio and together we can share in the
fun, delight and pure joy and create these images to be cherished for a
lifetime. At the heart of One Sweet Celebration is capturing the
magic of childhood. We love to celebrate the magic that happens in
reaching one full journey around the sun and what better way than with a giant cake with your parents smiling and cheering you on. Each session adds a little bit extra of fairy dust on the glorious childhood
memories……..
We also capture Newborns and Babies as well, feel free to message me to chat further! Looking forward to hearing from you, Rachel xx
www.onesweetcelebration.com.au
www.brisbanecakesmashphotographer.com.au
Please take a look around and if you have any questions or would like to book a session please get in touch via the booking link below.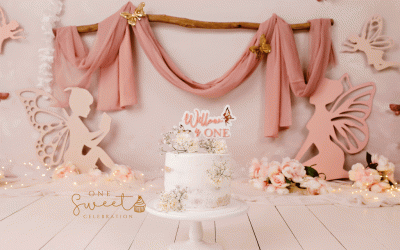 Capturing Life's littlest of Celebrations! Your dream celebration begins here One Sweet Celebration is a boutique photography studio that specialises in turning first birthdays into magical celebrations! Welcome to studio ofONE SWEET CELEBRATION – CAKE SMASH STUDIOWe...
Terms and conditions of Booking your session with One Sweet Celebration
We are excited that you have selected One Sweet Celebration for your little ones first birthday celebration. One Sweet Celebration is honored to capture your memories in our unique artistic style. The information below sets forth the terms and conditions of our engagement.
I. SESSION DEPOSIT
To book your session and chosen date with One Sweet Celebration we take a non- refundable $50 deposit. Your deposit secures your chosen date and current pricing at time of booking. We use your deposit to purchase your cake and or decorations required to create your sets.

The Cake Smash Session includes an optional pre-session consultation via phone/email, the photographer's time and talent up to one hour during the session, and a gallery of creatively retouched images to select from, Your Gallery includes a print release which allows you to print the images, and a private, online shopping cart/gallery.
Completed Cake Smash Photography Agreement & Questionnaire and payment of the non refundable deposit of $50 are required in order to reserve your session. The booking of your deposit defines you are aware of the Terms and conditions as outlined in these paragraphs. The remainder of your session fee is due on the day before your session. If Agreement & Deposit are not received, your session date/time frame will be free for another to reserve.
The Cask Smash Session Fee deposit is NON-REFUNDABLE.
II. CANCELLATION
In the case of cancellation, we will gladly reschedule your session if notice of 48 hours is given. If no reasonable notice is given, or if you fail to show up for your session, you forfeit your entire Session Fee deposit and another will be required to reschedule. If you cancel your session, One Sweet Celebration can not guarantee the ability to reschedule within this recommended time frame. If a reschedule is required a additional cake may need to purchased.
If the Photographer is unable to preform to the guidelines of this contract due to a fire or other casulaty, act of God, act of terrorism, or other cause beyond the control of the Photographer, or due to grave illness of the Photographer, then all fees paid by the client will be returned in full. One Sweet Celebration will not be liable for costs in excess of the amount paid by the client. This limitation of liability will also apply in the event that negatives/digital images are lost through camera malfunction, stolen, damaged in processing, lost in the mail, or otherwise damaged or lost without fault of One Sweet Celebration.
III. VIEWING THE IMAGES
Images will be available for viewing approximately 1-2 weeks following your session date. During the months of OCTOBER- DECEMBER your viewing times will be 2-3 weeks. The online gallery/shopping cart with be live for 7 calendar days. All Digital/product orders must be placed and paid in full during this time frame. if you are not able to place an order within the 7 day time frame, please notify One Sweet Celebration and we will glady re-host the online gallery for an additional fee of $25 for 7 days. The $25 fee must be paid in full before the online gallery will be re-hosted.
Due to the nature of custom photography, all sales are final. No exceptions. Please allow 4-6 weeks after your order is placed and paid in full to receive print orders. Specialty products may take 4-8 weeks to receive. One Sweet Celebration will not place orders until payment has been received in full.
IV. DIGITAL FILES
All purchased digital images include a print release to print the images at any lab of your choosing. One Sweet Celebration can not guarantee the quality of the prints from the lab you choose. If printed at a consumer lab, photos may not print as originally intended/showcased by the photographer. Please note that the images produced by One Sweet Celebration are calibrated for our selected professional lab.
V. NEGATIVES
Images will be archived for 6 months following the date of your session. All images will be deleted after 6 months from your session date. Additional orders may be placed during this time. A $50 fee is required to reinstate your gallery for a 7-day time period.
VI. COPYRIGHT
All images taken at your session are copyrighted by One Sweet Celebration. It is therefore unlawful to reproduce their work in any manner without written permission by One Sweet Celebration. Reproduction includes, but is not limited to, scanning, downloading, right-clicking, emailing, saving to hard drive, posting on websites or blogs, photocopying, printing screen shots, or printing in any manner. Please respect One Sweet Celebration livelihood and the care and attention paid to each of your images by adhering to copyright laws. One Sweet Celebration wishes to have artistic control over the final look of your images. Scanned or reproduced images are both illegal and a degredation of the original image quality.
VII. TRUTH IN PHOTOGRAPHY CLAUSE
Photography is an artistic interpretation of what a photographer sees when taking a photograph. The interpretation includes the subjects, posing, prop selection, set-up, location available and lighting available at the time of the session. There needs to be a level of trust between the photographer and client for the end result to be pleasing to both the client and photographer. If any party or parties in your session are unwilling to be co-operative and open to posing or expression suggestions, it is best to discuss this with the Photographer before your session begins.

VIII. SIGNED MODEL RELEASE
One Sweet Celebration retains the copyright of all original images and reserves the right to use and reproduce them for the purpose of, but not limited to, advertising, website/blog display, portfolio, or any publication to promote business free of compensation.
IX. EXCLUSIVE PHOTOGRAPHER
It is understood that One sweet celebration is the exclusive, official photographer retained to preform the photographic services requested in this agreement. No other cameras or recording devices are allowed during the photo session, including the use of mobile phone cameras unless agreed to by the Exclusive Photographer and Our Deluxe collection is purchased.
Upon submitting this agreement you will be taken to the checkout page to pay the deposit.
onesweetcelebration.com.au/product/session-booking-deposit/